So my mom's birthday was a couple weeks ago, and I wanted to make her a cake stand from thrift store china.
I found some pretty plates and an old candlestick (gave him some love with spray paint), and stuck them together with super glue.




I was going to make her some sort of dessert to put on it, but she's watching calories, so I didn't want to tempt her.
Even though everyone knows calories don't count on your birthday.
After trying to find a healthy alternative, I gave up completely and decided to just give her the stand.
One day when I was rummaging through the massive piles of junk and chaos looking in my craft room closet, I found some leftover Plaster of Paris as it fell on my head from my wedding.
So, I whipped up some NO CALORIE cupcakes, and my mama loved them!




This is how I did it--
You'll need:
Plaster of Paris

Water

An old spoon or plastic spoon

Old bowls to mix the plaster in

Acrylic paint (if you choose to make a certain "flavor"

Spackle or nail hole filler

Icing bags or Zip Loc baggies

Icing tips and coupler

Toppings-- glitter, "cherries", coffee beans, cinnamon, cocoa powder, plastic or clay candy and fruit, fabric paint
I mixed the plaster at a 2:1 ratio and stirred it up really well (I used 2/3 c. plaster and whatever half of 2/3c. is of water just eyeballed how much water). You have to work quickly, or it will harden and then you'll have lumpy blobs and not smooth cupcakes. The amount I used allowed me to make about 4 cupcakes at a time.
While I was mixing the plaster and the water, I added acrylic paint to change the color of the cupcake. In this case, I made yellow cake:


Next, I filled an old muffin tin from the $1 Tree with some paper cupcake liners I had. It should be the consistency of batter. If not, add a little more water. Then, blob it in the liners, leaving about a half inch of space. Remember to work quickly!


Let them harden for at least an hour (wash out your dishes ASAP so the plaster doesn't harden!).
They'll still look wet, and they will feel cold, but it'll be OK.
Now here's the fun part-- frosting and toppings!
Take some spackle and plop it in a bowl. These are the kinds I had at home:
The one in the tub is more 'whippy' than the other, and I think I like it better. It already looks like frosting, but I wanted to add some color. For butter cream, I added a little bit of beige paint to make it look more natural. I decided to go with pink frosting for my yellow cupcakes, so I added some red.


You have a little more time with the spackle to play with colors, since this doesn't dry as quick as the plaster does. Stir the paint in well, or you might have streaks on your finished cupcake (unless that's what you're going for!)
Next, I picked out an icing tip (I think it's #12... it's just a large circle) and prepped the bag.
Fold it down and fill it with the "frosting", just as you would for real cupcakes, and pipe it on!
I made swirls and just started on the outside edge and worked my way in. It also looks good with a star tip.
You can also frost them with a knife or spoon, if you're going for that look, too.
***Wash out your icing tips and bowls RIGHT AWAY!
I used super hot water and q-tips to make sure it was all out.
Now, add the toppings. If you want vanilla bean icing, adding black glitter to the icing works really well.
I've used glitter glass, little berries from an old Christmas wreath, coffee beans, cinnamon, cocoa powder, and plastic candy to decorate the cupcakes.
Decorate while the spackle is still wet, so the toppings stay put.
On the ones with blue icing, I used those little silver dragees that you use for cookies (but aren't supposed to eat--- what's up with that!?) and they discolored the spackle a little. Probably would be OK on vanilla icing though. You can also use that puffy fabric paint to make a glaze or swirls, like I did on the picture above (they have one called "Hot Chocolate" that looks like the real deal!).
And the best parts?! I didn't have to buy anything but the dishes, the cupcakes last forever, and they don't have any of that bad for you junk!!!
Oh, and I linked up to my first ever Frugal Friday linky party at: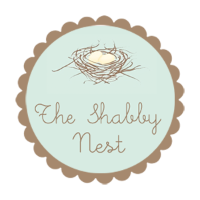 Yaaaay!